Welcome to this edition of NU Connections
For the past year, Marc Lintern, Director of Employability and Student Success, has chaired a Working Group to reduce levels of student antisocial behaviour in the community, and improve relations between students and permanent residents. Such has been the progress made, that the University and Students' Union are now launching a new monthly competition, backed by residents, to recognise and reward our best student neighbours.
While tackling student antisocial behaviour may seem a thankless task, experiences of working in Jesmond over the past year has actually been mainly positive.
Much of the tension which has existed has come from the fact that students and permanent residents lead different lifestyles. When residents have complained about late night noise from students, or litter in back alleys and residential streets, the root issue is often that they haven't felt heard – and have assumed we don't care.
When things came to a head in December 2016, Dr John Hogan, Registrar, set up a new Jesmond ASB Working Group, tasked with improving this situation. While the underlying issue was growing tension caused by a 'them and us' divide, the final straw was an increase in large, loud – and inappropriate – house parties. Not only were these parties disruptive, but they were, and are, a risk to student wellbeing.
Jesmond ASB Working Group
Working with Northumbria Police, Newcastle City Council and local councillors, staff from the University and Students' Union, and sabbatical officers, have worked together on an action plan to reduce levels of antisocial behaviour and improve student-resident relationships. This plan, which has also involved working with personal tutors, has been based on three core themes:
a) Awareness raising among students about the unintended consequences of antisocial behaviour, and expectations of living in a residential area.
b) Informing residents, through leaflets distributed in Jesmond and new webpages, about sources of support and how to contact the University to raise complaints.
c) Building stronger relationships between students and residents, for example through joint volunteering projects.
While things have improved, this is not to suggest that there aren't still challenges, and our Student Casework Team responds to complaints on a daily basis from residents. However, in general the severity of incidents has reduced and while there will always be noise, litter and student parties, residents can at least see that we are making an effort to do something.
Which is the theme of our latest initiative to further improve relationships – BNOC.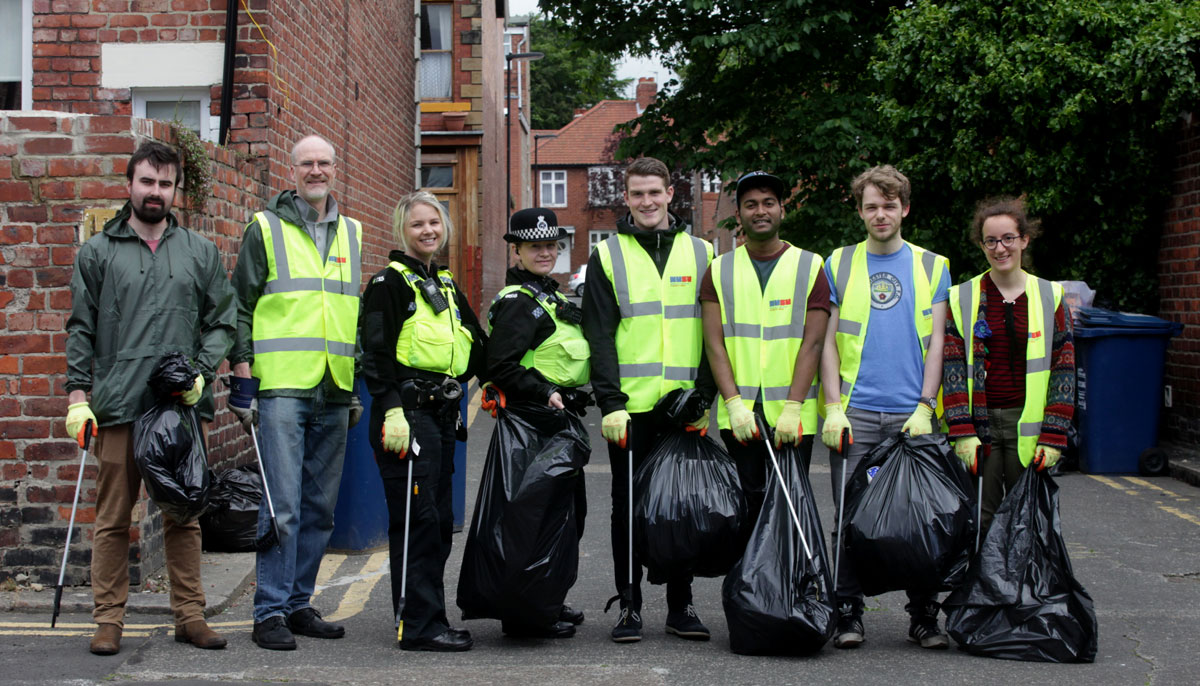 Best Neighbour On Campus
BNOC, or 'Best Neighbour On Campus', is a is a competition designed to promote the many good things which our students do not just in Jesmond but across the city, and to celebrate and reward our best student 'households'.
Believing that most of our students are decent and thoughtful neighbours, each month we will be inviting permanent residents, from across the city, to nominate either individual students, groups of students or entire student households, for a BNOC Award, with the prize of up to £1,000 as a contribution towards rent and living costs for that month.
Nominations, which opened this week, cannot be made by other students, and will be judged at the end of each month by a panel comprising representatives from Newcastle University, Newcastle University Students' Union, local councillors and the local press. Crucially, the judging panel also includes Jesmond residents, without whom this competition could not go ahead.
"Through BNOC we aim to find new examples of students who are good neighbours, while also modelling positive behaviour for others to copy" says Ronnie Reid, President of the Students' Union.
"We also plan to use the monthly panel meetings as an opportunity for regular discussion with residents, and a chance to get to know one another better".
By working together, our aim is make further improvements in student and resident relationships. There is no easy or short term fix, but we hope that initiatives such as BNOC will help.
For more information about BNOC, and our community webpages for residents, visit www.ncl.ac.uk/community-living.
published on: 12th February 2018
If you would like to submit a staff announcement or provide feedback about this website please visit our Contact Us section.